With the Christmas and New Years holidays headed our way, I thought this Treasure Box Wednesday you all might be-- like me-- looking for a little decorating inspiration. So I've pulled together a collection of different Christmas tablescapes and mantles I've done over the years, and if you have time to stick around, I'll also show you the very, very early plans for Christmas decorating
this
year.
This was my dining table last year. I went with greens, deep purples and golds-- an excuse to use my crystal Waterford/Waffle Depression glass. In the center of the table was an elaborate candelabra (from the thrift store, of course!) some jeweled fruit, and a very realistic-looking faux pine bough...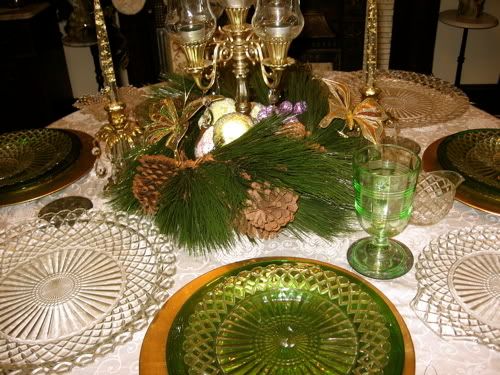 You can see the tablescape from a slightly different angle here...
This was the mantle in that room-- I'd gone with a bit of a Sugarplum Fairy theme with fairies from TJ Maxx, more pine boughs and lots of ribbon...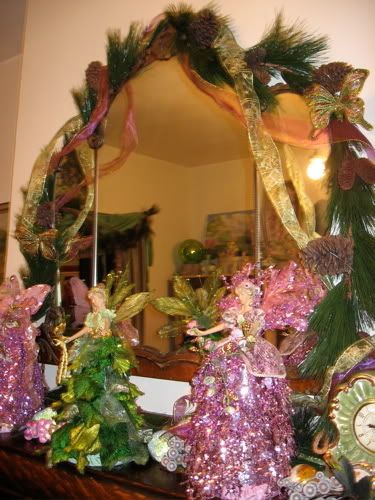 This was over to the right side of the fireplace mantle...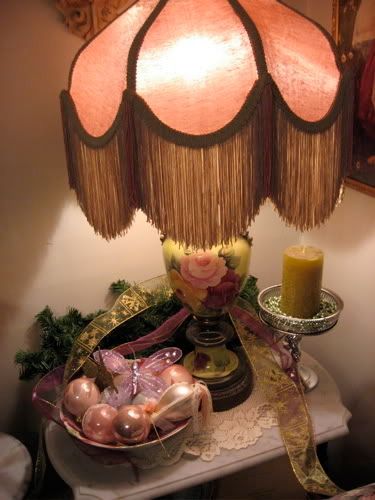 And this was the themic Christmas tree... Just a $10 tree I got from Family Dollar with leftover fruit, fairy and butterfly ornaments and--yup-- more ribbon...
You can see a close-up on that tree here...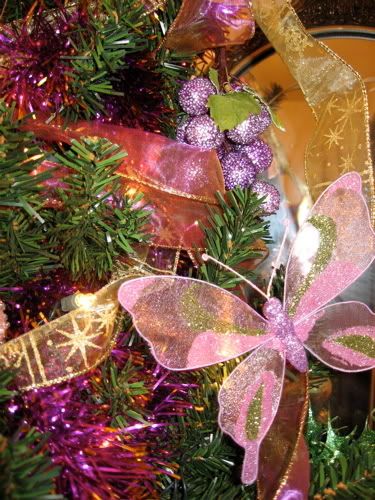 Here is the same diningroom, done up for a previous year...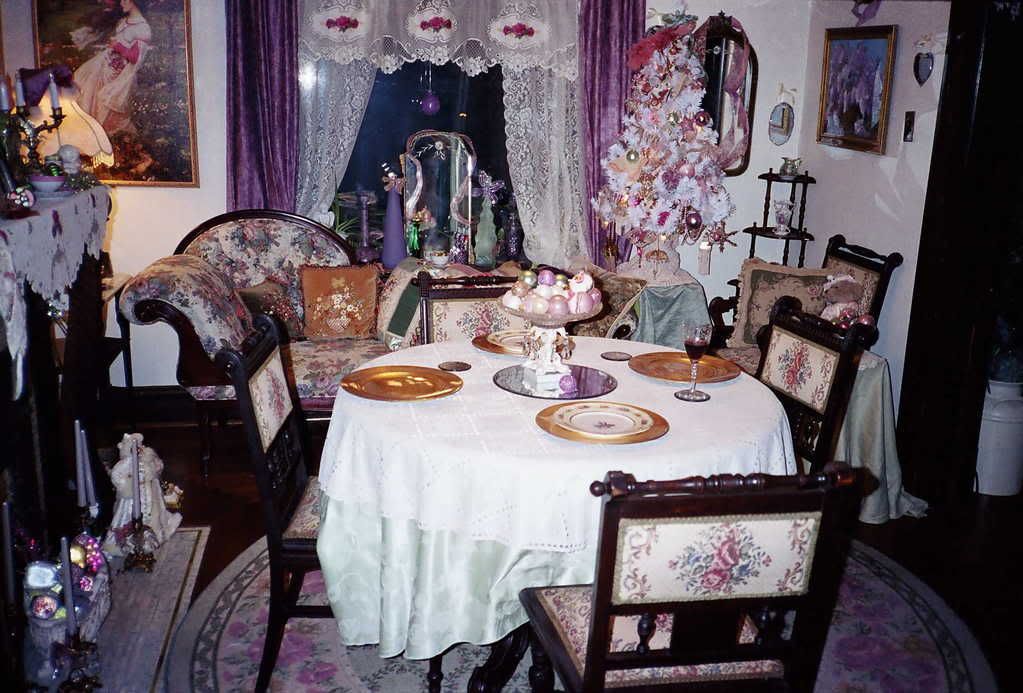 There I went with a lot lighter colors-- more of a Shabby Chic influence, and fewer Victorian jewel tones. You can see a close-up of the table here...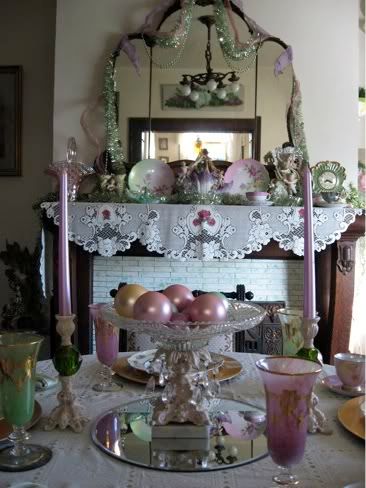 And the centerpiece here...
This was the matching mantle....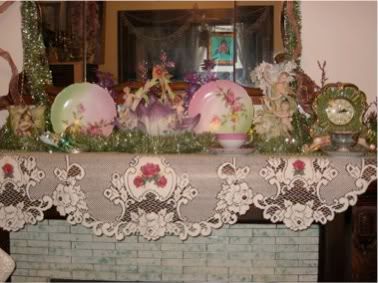 On it, you'll see some bisque cherubs, some handpainted Victorian plates, more tinsel and beads than you can shake a stick at (if you're the stick-shaking type). It was pretty much an explosion of color and shimmer.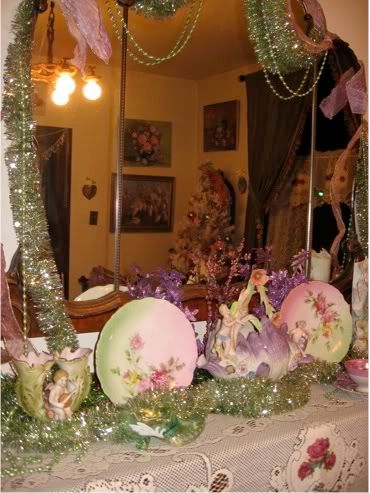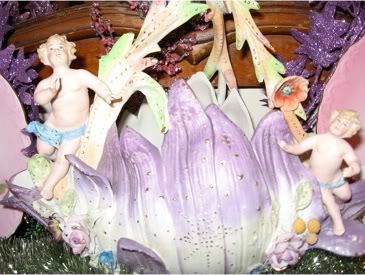 And now, as we step into the entryway, this was my entryway sideboard tablescape from last year...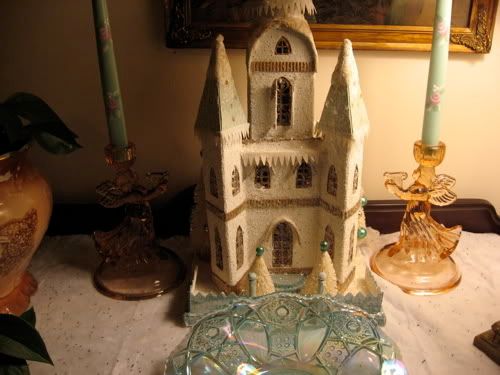 And here, a little snow scene of cardboard houses set up in the very same room...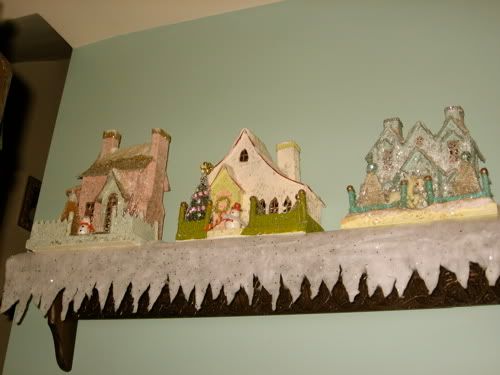 As we pop upstairs to the spare room, these were some tablescapes from last year...
I'm not really sure what direction I'll go with it this year. It really depends on how the other rooms shake out.
And what's been going on
this
year, you ask? Well, given the large quantity of ShinyBrites I'd found at the thrift stores, I thought it might be fun to do some small ShinyBrite trees-- something hearkening back to 50s tinsel trees and strong color combinations. So when I saw some flocked pink trees on sale at Michaels, I thought I'd give it a go...
These are not done yet, but this is the direction they're headed. Here we have the diningroom again...
I think I'll use my great-aunt's cream and pink china plates on the chargers this year. The tree and mantle really need some ribbon... I want to balance the intense pink out with a soft light green.
Still, all the ShinyBrites on the pink look a bit like decorated cotton candy to me. It's sort of crazy right now, but I think it will work once I'm done noodling with it...
Here are some ShinyBrites in the centerpiece bowl. Some of these are just waiting for me to unpack the ornament hooks. And some of them are slightly damaged and so are safer to sit happily in the bowl...
It's very bright and a bit groovy, I know-- and still somehow doesn't clash too much with the actual Victoriana. I wanted to balance the "atomic age" look of the ShinyBrites with the Victorian time period of the house. So I think I'm headed in the right direction. Like every year, it's been a lot of trial and error-- and it ain't over yet!
And here in the entryway, I've been messing around with this little tree.
Where with the diningroom tree, I'd been trying to keep to the color palette of the dining room-- pinks and greens and golds-- the entryway tree, I'm trying to use more pinks, turquoises and reds. I think color-wise, again, I need to tone it down a bit. But that could just be because it's the only Christmas decor currently in the entryway....
It's a bit like bringing Mae West and Liberace to a military funeral-- They're bound to stand out.
So we'll see how it goes.
Anyway, that's where it all stands for now. As I'd mentioned before, I'm on the road right now (will still be checking in to respond to comments, etc.), and Sunday's post will be found here on
http://thriftshopromantic.blogspot.com
only, and not on the main page of
www.thriftshopromantic.com
, as I can't update that from a distance. I promise to do that when I return.
I hope you all have an absolutely wonderful Thanksgiving, for those of you in the U.S. who are celebrating. And to my non-U.S. friends, take care and I will be talking to you!